Three years ago yesterday, Ella arrived. My first English Springer Spaniel puppy from Meadowland Springers in Baltic, South Dakota.  Training her to be a service dog was such a joyful experience that I've had a least one Springer Spaniel puppy underfoot every fall since then.
Cort, Ella's brother, arrived from Meadowlands Springers in April 2014. Franny, my dog, my assistant trainer, who shows the dogs we train what to do from a dog's perspective, and gives me unmeasurable joy, arrived about a year after Ella.  This same time of year in 2015, I got Morgan and Fern, and this year, I'm training Scout, a frolicking firecracker of a puppy.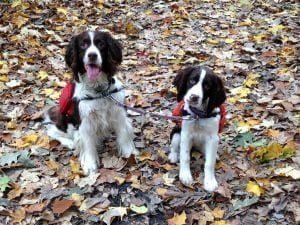 All told, I've had a hand in raising and training 6 of these puppies from 5 litters in 3 years – all from the same parents, Traveler and Elsa at Meadowland Springers. All had happy little puppyhoods full of love and the fresh air of South Dakota.  All flew to Northeast Ohio (Fern and Morgan together!) and didn't miss a beat despite the prolonged discomfort of air travel.  All 6 puppies have been exceptionally loving, devoted and resilient. Five have become service dogs, 1 is a therapy dog.
Despite their common genetics and similar upbringing, however, these pups aren't identical, much less interchangeable. Although there can be physical differences — Cort, the only male I've raised, is nearly twice as big as his sisters. But usually what differentiates these puppies from one another is something much less tangible and harder to discern: temperament or their nature.
Part art, part science, evaluating the temperament of each puppy and matching it to a function and a person is a large part of my work. It's a skill I've consciously nurtured.  A dog which is temperamentally in sync with its humans and its assigned role will settle into training with relative ease.  In other words, the dog's job – whether to calm, stabilize, warn, guide or fetch for its human – will resonate with the dog's personality and natural inclinations.  
So when I get a puppy like Scout – in her case she arrived at 10 weeks on August 15, 2016 — (I selected on her 2nd day of life because I didn't want her tail cropped and I knew any pup from this litter would be potential service dog material)
– –  I begin immediately to observe her behaviors and determine her temperament. Is the dog always high-energy and up for adventure?  Is the dog mellow – calm and capable of conveying calm to others? Is the dog reticent, soothing, playful, protective, accommodating? Is she brave? Respectful of the signals of older dogs?  How does she respond in different situations and to different people?
Temperament is crucial because, as in so many areas of life, it's important to get the right make and model for the job. While the dog's appearance can't help but be a consideration, experience tells me that with dogs, form should follow function. In other words, the dog you choose should above all be suitable for the function it is intended to fulfill; what the dog looks like should be secondary. I clearly  have a special place in my heart for Springer Spaniels, not because they're cute (though they are) but because they're loving, cuddly, enthusiastic adventure-seekers and the perfect service dog for an active person who seeks a partner to help overcome life's challenges with charm and humor.
But there are many other breeds which make great service dogs – a good breeder who knows her stock will be able to identify good candidates for you. In addition to Springer Spaniels, I've trained Golden Retrievers, Labrador Retrievers, Labradoodles, German Shepherd Dogs, Great Danes, Australian Shepherds, Border Collies and even smaller breeds, like the Bichon Frise.
Today, though, I'm enjoying the opportunity to train another pup from this fabulous family of Springer Spaniels.