Do you have specific questions about your dog, are curious if your dog is a potential candidate for service dog work, need help in selecting the right "make and model" of dog before taking the plunge or have other questions or concerns about your pet that you'd like addressed? Rachel offers online consultations in 30- 60- or 90- minute sessions. 
These consultations are great for tackling specific questions or understanding more about how A Better Pet's training philosophy works. After your consultation, if you're interested in pursuing private online dog training, this is also offered as a service. 
Online dog training always begins with The Six Pillars of DogTraining Wisdom: The Foundation. Details on this are HERE.
Additional desired direct training can be scheduled in increments of -30. -60 or -90 minute sessions. For local clients, F2F (face to face) sessions can be scheduled. These are especially helpful for those pursuing training their own service dog and want support with public access training skills or clients with very challenging pet / companion dogs that benefit from more intensive support.
Schedule a Zoom Consultation
Available in 30, 60 or 90 minute sessions.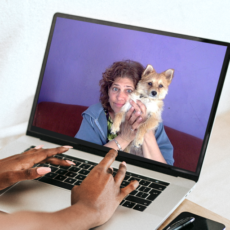 "Rachel has provided me with the tools and guidance I need to make Charlii A Better Pet!!! I was first introduced to Rachel online, so when she started a Zoom Training Series I immediately jumped at the opportunity and it's been a great experience. Rachel quickly identified some basic responses that were missing in our handler/pet relationship and provided guidance on how to teach my pup the expected behaviors. Rachel taught the entire class series over zoom, paying special attention to everyone's needs. She educated us all on the formula for success, gave us the tools to develop and customize our own training plans and provided encouragement. She also shared a formula on how to break an unwanted behavior which has been a great tool for level setting expectations. She is responsive and encourages videos to share situations which help her to provide customized guidance. While I'd love an opportunity to travel to Ohio, until then Zoom works great! Her online sessions have been extremely helpful in guiding me through the teen years helping to train Charlii become A Better Pet."
"We recently finished Puppy Kindergarten classes (via Zoom due to covid) and learned SO much. It worked really well via Zoom and you can access the class recording if you have to miss one. Rachel has a holistic approach and works with the entire family. The drop in playgroups - a place to practice training and receive feedback in a 'real world' setting, with lots of distractions - were such a great addition."