trained to fulfill a specific function in the life of their owner.
 These functions will be defined within a therapeutic treatment plan for psychiatric disorders, medical conditions, physical rehabilitation, and/or physical disability. 
Service dog training begins with a consultation to assess if getting a service dog is really the right fit. Understanding what make and model — breed, size, gender, coat type, energy level, functionality, etc. — are all elements that help in the success of partnering with a dog for service.
If getting a service dog is agreed upon as a good idea, Rachel helps clients identify the right make and model. She has connections with many excellent breeders of different dogs that she has found work best for the clients she serves. These primarily include sporting  breeds including labrador retrievers, golden retrievers, springer spaniels, a variety of doodles (sporting breeds mixed with poodles) and, in some case, very large or giant breeds for mobility support clients. 
Once a breed or breed type is selected, Rachel then seeks to find the right dog.  She prefers to acquire puppies between 8 to no more than 12 weeks old. Rachel raises puppies underfoot and in her home living alongside her own dogs and socializes, trains and wholly supports the dogs until such time as placement is deemed appropriate. This can range between 3-6 months after acquisition of the puppy. This is the very important transition phase in which Rachel is heavily available for support. 
The Liz & Pixie Story: Service Dog Client
Sample Service Dog Contract
Contracts are 6 months long and by the end of this period the dog is fully integrated and already working for their client.  In some instances, and always available, are extensions for those needing additional support. Complete the intake form below to get started. 
View our Service Dog Training contract:
Can you train my dog to be a service dog?
 If you already have a dog or puppy you wish to consider as a service dog, we strongly recommend you CONTACT US to assess if that is a viable option for you through training and/or consultation. It is our experience that finding the right make and model for each individual is critically important to the success of training a dog for service dog functionality. Most pet and ESA dogs already living with people are not likely to succeed, especially with respect to public access support. We do provide services to help find the right make and model BEFORE you acquire a dog with an eye towards training as a service dog.
Are trained to help their owner navigate treatment plans for a broad range of psychiatric disorders such as anxiety, depression, personality disorders, trauma history, and PTSD.  Specifically psychiatric service dogs may help their owners to:
Recognize and respond to signs of anxiety or panic attack;

Recognize and respond to signs of depression;

Recognize and interrupt negative or harmful behavioral patterns; 

Provide intimate companionship and foster engagement in the external world;

Build confidence, optimism, and a positive outlook;

Create social and community connections and build a support network;

Alert others to their need for attention or assistance.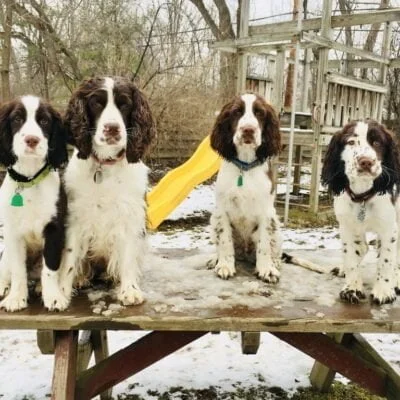 Mobility/Medical Service Dogs
In addition to offering the same benefits and services as psychiatric service dogs, mobility and medical service dogs are trained to improve their owner's quality of life in relation to a specific physical limitation.  For example, service dog training may include:  
Providing mobility support;

Turning lights on/off

Opening/closing doors

Retrieving items

Alerting to seizures/medical issues/panic attacks

Helping owner develop pragmatic language/social skills

Recognizing and preventing impulsive behaviors

Alerting other individuals to their owner's emergency needs



Each ABP service or therapy dog, while having common foundational qualities and traits, will be specifically trained to each client's unique requirements.  Additionally Rachel will create a specialized treatment plan to train the service dog team including the primary handler and any other members of the family and therapeutic team who will be interacting with the dog.   
ABP Service or Therapy dogs are purpose bred and trained from birth.  Rachel will, on request, assess a client's existing pet dog for potential fit to the service dog role.
Please be aware the requirements are specific and in most cases it is not a match. We believe in success and starting with the right "make and model" is key to success. 
Therapy Dogs are owned by educators or medical and social service professionals in specialty practice such as psychiatric, physical/occupational therapy or rehabilitation, hospice workers, funeral directors, etc. who use their dog as an adjunct to their work and services they provide their clients.  These dogs are specially trained to assist. The ABP Therapy Dog Training, based in Ohio and working with practitioners both in person and with online dog training, ensures that both the dog and his handler are well-trained and able to work successfully in different clinical settings and with a variety of people.
NOTE: Dogs can wear many hats. Many of the service dog teams started and launched from ABP into the world are also using their canine partners as therapy dogs in their professional life.
"I have had my service dog (Spark) for almost 4 weeks now and Spark has helped me so much. Rachel is extremely helpful and supportive."
"Rachel gave me the best gift ever in my service dog. She knows a lot and is always willing to help those who ask. I would 100% recommend her no matter where you live!"
Apply for Service Dog Training with ABP
Complete our intake form to get started!