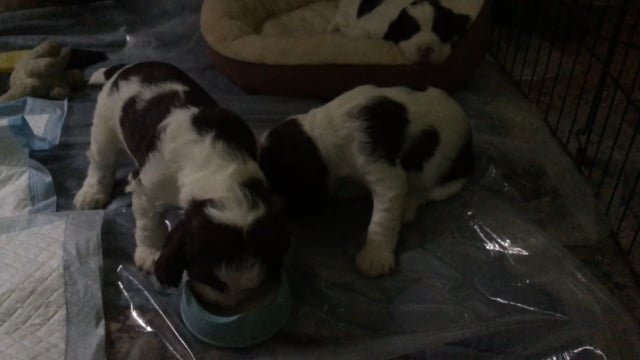 It's been a wild week of development on the puppy end since our last update and today the puppies are 4 weeks old. So many changes! These service puppies in training are receiving what I believe to be the critically important experiences of very early puppyhood to help increase the probability for making them stable, confident, loving and proactive learners. Their personalities are deepening and clearly different, but all three are so sweet. They are learning to trust and like humans, their older sister Summer who is now 5 months old, and playing with toys and each other. Their current "names", in order of birth, are Tribble, Shamrock and PeeWee. Should their future partners wish a name change, easy peasy. 
For starters, I have removed the upstairs "crib" and they are now living exclusively in one fenced in area that includes a sleeping area, playing area and frequently changed piddle pads to help encourage them to keep their sleeping area cleaner. This will help in their future crate training and beginning the idea of identified areas to do "their business". Raising puppies in NE Ohio as winter creeps in (it's pouring icy rain/sleet/snow outside the window as I write this) is a challenge — when they are hardier I will start taking them, briefly, outside, to see the world at large, but for now, they are kept warm and safe and dry and as clean as possible! I'm developing a containment system that allows them opportunity to play with textures, surface changes (hills and dales with dog beds) and toys while keeping them and my stuff safe.
As the following video illustrates, I introduced formula into their diet in preparation for eating progressively more solid food. (I also admit an embarrassing reveal partway through video!). Sharp little teeth have erupted from their gums making nursing a bit more of a challenge for their ever patient mother Franny. It's amazing to watch these daily developments and to know that when they are double their current age they'll be nearly ready for puppy raisers.
NOTE: IF you or someone you know is interested in becoming a service dog puppy raiser for any of these or future pups, please email info@abetterpet.com and put PUPPY RAISER in subject heading. Puppy raisers must live within 20 minutes of the southern part of Cleveland Heights and meet specific criteria to be considered.  This is a volunteer or modestly paid but very rewarding experience. Time needed for puppy raising from late December 2018 until March 2019.
Puppies 4 weeks old from Rachel Friedman on Vimeo.